Ymddiheurwn, nid yw'r testun ar gael yn y Gymraeg ar hyn o bryd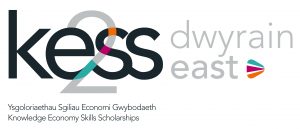 Determining the potential for precision grazing to improve the resilience of livestock production systems
School of Natural Sciences, Bangor University
Project ID: BUK2E017
Annual Stipend: £14,483
Application Deadline: April 30th, 2020
Applications are invited for a three-year research PhD studentship in improving the economic and environmental performance of pasture-based livestock production systems through better utilisation of grass. The studentship is funded by Knowledge Economy Skills Scholarships East (KESS 2 East) in collaboration with Hybu Cig Cymru (HCC). It will cover tuition fees and an annual tax-free stipend (£14,483), as well as a travel budget for workshop and conference attendance. The start date is June 1st, 2020.
Grass has been shown to be the cheapest feed to provide ruminant systems and has the least environmental impacts. However, there remains huge variability in the quantity, quality and utilisation of grass grown on farms, much of which is down to management. This 'lost' feed has to be replaced with imported soya or grain, which increases the economic and environmental burden of production systems. Indeed, studies estimate that 50% of grass grown on UK farms is wasted, which has implications for nutrient use and greenhouse gas emissions. The impacts of different grazing systems on the efficiency of pasture production, however, is profound. Some systems (e.g. rotational grazing) have been shown to utilise 60-70% of grass grown, whilst the newer 'cell grazing' systems purportedly utilise 90% of grass grown. Such difference would have hugely significant implications for both the environmental footprint and cost of meat production. Furthermore, it would allow production of an equal (or greater) quantity per hectare of land, meaning that poorer quality land could be used to 'offset' emissions, e.g. through the planting of trees (i.e. the principle of sustainable intensification).
Using a cluster of study sites, this project will determine the economic (e.g. feed purchased) and environmental (e.g. fertiliser application rates) cost-benefits of different grazing systems for lamb and beef production systems. The findings will be used at different levels to generate novel outputs:
The economic and environmental ramifications of improved grassland utilisation for livestock systems will be estimated at the farm scale;
The results will then be scaled up to the national level, evaluating the net effect on Welsh GHG emissions and the resilience and economic performance of livestock farms;
Lastly, the potential of such grazing management to attract further funds in terms of payment for ecosystem services will be assessed using a model upland and lowland farm.
HCC (https://hccmpw.org.uk/en) is the red meat levy board in Wales, within its remit is the funding of research that will reduce the environmental footprint of red meat production; which it views as both a major challenge and opportunity for the sector in Wales. Key to this is the efficient utilisation of home-grown forage; which will also bring significant economic benefit to the sector.
This is one of four PhD studentships in partnership with HCC; the others being:
Strategies to reach zero carbon sheep and beef production on Welsh farms
Strategies for meeting targets for ammonia emissions and nitrate leaching reduction for Welsh beef and sheep farms
Integrated guidance for meeting environmental targets while maintaining profitability for the sheep and beef sectors in Wales
Applicants should hold a first or upper second-class honours degree (or equivalent) in agriculture, economics, environmental science or a related degree. Experience of modelling or programming is desirable.
Bangor Supervisors: Prysor Williams (prysor.williams@bangor.ac.uk) & James Gibbons (j.gibbons@bangor.ac.uk)
External supervisor: Dr Jordana Rivero Viera (Rothamsted Research)
For informal enquiries, please contact Prysor Williams or James Gibbons
To apply : 
Please send a CV and covering letter to Prysor Williams (prysor.williams@bangor.ac.uk) and cc to Penny Dowdney (p.j.dowdney@bangor.ac.uk).
Closing Date: April 30th, 2020
Knowledge Economy Skills Scholarships East (KESS 2 East) is a pan-Wales higher level skills initiative led by Bangor University on behalf of the HE sector in Wales. It is part funded by the Welsh Government's European Social Fund (ESF) convergence programme for East Wales.
Due to ESF funding, eligibility restrictions apply to this scholarship. To be eligible, the successful candidate will need to be resident in East Wales on University registration, and must have the right to work in the region on qualification.