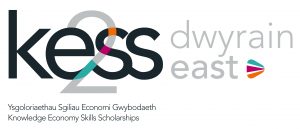 Applications are invited for a PhD studentship funded by the Knowledge Economy Skills Scholarship (KESS 2 East) scheme intended to start February 2020. The project will be based in Yr Athrofa: the Institute of Education at University of Wales Trinity Saint David in collaboration with the National Eisteddfod of Wales.
Duration: 3 years
Funding Amount: UK/EU tuition fees plus stipend starting at £14,628
Regions: EU (Non UK), UK
Project Details:
This project focusses on the digital opportunities in developing and implementing an international and digital strategy for the National Eisteddfod of Wales. This project will examine three specific aspects of the contribution of digital technology to the international strategy:
(a) Professional Development: partnership building with other festivals, extending contacts and relationships, engagement in digital networks, using technology in these contexts.
(b) Artistic Programme: identify which aspects of the programme are most appropriate for international exchange – this many include co-productions with other festivals as well as 'exporting' and importing artistic content. What can innovative digital technologies contribute to this aspect?
(c) Community Engagement Strategy – how can the Eisteddfod introduce elements of internationalisation into its community engagement strategy; can cultural tourism in Wales benefit from an enhanced visibility of its engagement projects all over Wales? Can Wales showcase internationally its proven track record in community co-curation and co-production as experienced in the Eisteddfod?
Funding:
Funded by KESS East. Knowledge Economy Skills Scholarships is a pan-Wales higher level skills initiative led by Bangor University on behalf of the HE sector in Wales. It is part funded by the Welsh Government's European Social Fund (ESF) convergence programme for West Wales and the Valleys.
This studentship consists of full UK/EU tuition fees at UK/EU rate, as well as a tax-free Doctoral Stipend starting at £14,628 p.a. for 2019/20.
Each scholarship has an additional budget for travel, equipment/consumables and training to support your research. KESS PhD Scholarship holders do not pay fees.
Length: Full-time for 3 years. (Theses must be submitted 6 months after the funded three-year study period.)
Training: The achievement of a Postgraduate Skills Development Award (PSDA) is compulsory for each KESS scholar (The PSDA is based on a 60-credit award, which is an additional award to the PhD).
Selection Criteria:
Essential:
At least a 2:1 degree (or equivalent)
An interest and relevant experience in digital culture and international exchange
A willingness to embrace new technologies in the context of international cultural exchange
Excellent written and oral communication skills in Welsh and English
Competence in using appropriate software and platforms
Ability to work independently, effectively manage own time and undertake independent research activity successfully
Excellent inter-personal skills with ability and commitment to work effectively as part of a collaborative team
Ability to establish strong collaboration with the Eisteddfod as main partner.
Desired:
Masters qualification in a relevant field
Working knowledge of languages other than Welsh and English
Have experience of working in the field of international cultural exchange 
Eligibility
Open only to those within the KESS East Wales Programme Area. Candidates must meet the following criteria:
Have a home/work address in the East Wales Programme Area * at the time of their application;
Have the right to take up paid work in the Programme Area * on completion of the scholarship;
Be classified as 'home' or 'EU' according to the University's guidelines.
* East Wales Programme Area includes: Flintshire, Powys, Wrexham, Vale of Glamorgan, Monmouthshire, Newport, and Cardiff
How to apply:
A completed application package should be submitted to Dr Matt Briggs m.briggs@uwtsd.ac.uk by 14th October 2019. Hard copy may be sent to
Dr Matt Briggs
Research, Innovation and Enterprise Services
University of Wales, Trinity Saint David.
J-Shed, Suit 10 / 11.
Kings Road
Swansea
SA1 8PL
Shortlisted candidates will be informed 17th October
Interviews will be held w/c 21st October
Application package:
Please download the following documents from the UWTSD website here
http://www.uwtsd.ac.uk/rdp/funding-and-projects/kess-ii/
KESS II Participant Application Form
Supporting Documents mentioned on each form
To discuss the project please contact:
Prof. Elin Haf Gruffydd Jones  elin.jones@uwtsd.ac.uk
To discuss the application process, please contact       
Dr Matt Briggs.  m.briggs@uwtsd.ac.uk