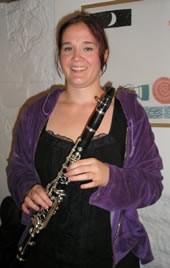 Student: Sioned Roberts
Company: Ensemble Cymru
Academic Supervisor: Dr Pwyll Ap Sion
The Project
My project title was 'The clarinet and chamber music of the 20th and 21st centuries', I am a clarinet player and I decided to create a project focusing on contemporary music for the solo clarinet. I was interested in researching existing works but also commissioning new works. As part of my project I commissioned Chris Painter, a South Wales based composer, to compose a piece for solo clarinet and dancer.
How did you arrive at KESS?
I had been out of formal education for seven years, I completed my undergraduate degree here at Bangor University then went to Music College to do a post-graduate diploma and began working and freelancing, mainly I was teaching and I wanted to get out of that cycle. I started to get itchy feet and I wanted to do something different, then a friend who worked at Bangor University suggested that I take a look at the KESS website, I was very interested in what was being offered, and that is how I arrived at KESS.
Company partner/what was done with the Ensemble
I think I've been lucky with the company that I worked with in that we had a good flow of communication. We sat down at the beginning of the year and planned out exactly what I would be doing with the company and how that would be of benefit to not only the company but in turn how it would then compliment my studies.
As part of my placement with the Ensemble I played second clarinet in the orchestra, I was also given the title of Ambassador for New Music, an exciting opportunity which led to me giving concerts of contemporary music, so pre concerts of concerts, little blasts of contemporary music which went down quite well with audiences. I also undertook community engagement activities with schools while on placement with the Ensemble.
Personal development
I feel that I have become a flexible musician, in that I am able to approach new music with more ease than I used to. I now look at music from a musicological stand point, rather than just trying to play music straight away; this helped me become more business minded, so not just trying to think of myself as a musician but trying to sell that as a business as well.
Also from a business perspective I've been able to see the practicalities of the industry, rather than just turning up and playing I've had an insight into what happens behind the scenes which has opened my eyes really and made me rethink the way in which I approach my work.
A lot of musicians don't really think of themselves as a business, but I've been given the opportunity through KESS to see myself as a business, turning that thought from playing the clarinet into how am I going to sell this? I think the skills that I've learned from KESS have really opened my eyes.
While on placement with the Ensemble I was lucky to receive training to work with Jessie's fund which is an organisation that works with special needs children. I undertook two projects at Ysgol
Hafod Lon near Pwllhelli, one getting children to compose music for a concert and for the other one we composed a track for their school CD, there was great satisfaction for everyone involved.
What an experience…
During November 2012 I was given the opportunity to join the Dweezil Zappa plays Zappa band on their UK tour. A series of events led up to this opportunity. During ZPZ's 2011 tour, I was lucky enough to briefly chat with Dweezil – I had questions to ask him about his father's Clarinet Concerto – Mo N Herb's Vacation. This resulted in me posting various audio files of my clarinet playing onto Dweezil's website. These files were clips from the DVD and tracks from the CD I submitted as part of my research. Months passed, and out of the blue I received a message from Dweezil asking whether I would like to join the band onstage to play one of Frank Zappa's songs on a couple of dates during their UK tour! Following a positive rehearsal, I was asked to join the band for the whole leg of the UK tour. I was very excited and accepted straight away. Our first gig was a night at the Roundhouse in London, and we played in various venues across the UK throughout the week. It was a wonderful experience, and had it not been for KESS, I may not have been able to create the recordings that subsequently enabled me to have a brief glimpse at the world of an international touring rock band!
Employability
As a musician I think that the experience has made me more flexible, and because of that hopefully more employable for other companies, which is quite important as a freelance musician.
Future research opportunities
There are two main avenues in which further research could be done in this field, the first would be to look at different genres of music, so from that point of view the research could be extended but focussed even more so it's just focussing on one field.
The second opportunity for development would be on the relationship between the composer and the musician and how it progresses, getting from a piece of paper, just an idea, to a performance where everybody's happy with it, I do think that would be quite an interesting piece of follow up research.
Community engagement
Early on in the project discussions with the Ensemble, in addition to the role of Ambassador for New Music I was given the additional title of Education Officer within the Ensemble, what this has meant is that I have been delivering workshops on behalf of the Ensemble. A poet and I went around schools locally, sometimes the children would compose music, and sometimes they would compose poetry based on the music. In undertaking the evaluation of the programme we calculated that over the course of the year 1,500 children had some musical experience as a result of the engagement activities that we carried out.
Final thoughts of KESS
Just that I had a great year, the overall experience has opened my eyes to a lot of different things and beyond the research I was doing as well. I'm really thankful that I was able to do it and thankful for everyone's support