Prof. Graham Ormondroyd
Graham completed his PhD (Wood Science) at Bangor University and has been the Head of Materials Research at the BioComposites Centre for 18 years and Reader in Biobased materials since February 2020. In that time, he has written many proposals, papers and undertaken commercial works in all aspects of biomaterials science. Graham has over 100 publications including peer reviewed papers, conference proceedings, book chapters and edited books, he continues to publish regularly. He is also a Fellow of the Institute of Materials Minerals and Mining, a member of the International Research Group on Wood Protection and Chair of the Wood Technology Society.
Graham has an interest in the translation of scientific output into ideas that everybody can understand and make the concepts of the challenges that the planet faces and the solutions that are both here and around the corner accessible to all.
Contact: 01248 383898 / g.ormondroyd@bangor.ac.uk
---
Dr Morwenna Spear
Research Scientist and Cross Cutting Themes Champion
Morwenna has worked at the BioComposites Centre for over 15 years, conducting research into timber and a wide range of bio-based materials. She has worked with companies to scale up new technologies and processes, increase efficiency, reduce waste and to assess materials performance. She is a fellow of the IOM3, and vice chair of the Wood Technology Society. Morwenna is active in research into novel timber treatments; the physical, thermal and chemical properties of wood. She is also working on energy efficient buildings and researching the environmental effects of materials and objects such as disposable and reusable facemasks.
Morwenna is an equalities champion for Bangor University and a cross cutting themes champion for the SEEC project. She has experience in communicating science and sustainability to academics, policy makers, businesses and the general public, and enjoys interacting at STEM events for school children such as the Science Pavilion in the National Eisteddfod.
Contact: 01248 382029/ m.j.spear@bangor.ac.uk
---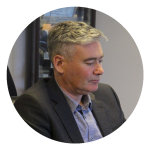 Campbell Skinner
Campbell Skinner is a Life Cycle Assessment Analyst at the BioComposites Centre. He has worked extensively with LCA and carbon footprinting, in fields ranging from agriculture and horticulture, to bio-based product development and bio-refining. He has successfully led a wide range of previous LCA-based research projects and commercial contracts. Prior to joining the centre, Campbell worked at the University's School of Natural Sciences specializing in agricultural greenhouse gas emissions and managed the University's carbon footprinting consultancy, Footprints4Food, where he undertook >100 farm and food product carbon footprints. As well as peer-reviewed papers, Campbell has written two book chapters and spoken widely on LCA, sustainability and bio-based product development.
Contact: 01248 382605 / c.j.skinner@bangor.ac.uk
---
George Roberts
LCA analyst
George is the Life Cycle Assessment support officer at the BioComposites Centre, Bangor University. Having a long-term interest in environmental science, he studied and graduated from Bangor University with a First Class Honours Degree in Physical Geography. Since his time working at the BioComposites Centre, George has been involved in several LCA projects ranging from wood and wood-based products, plant-based leather, and the development of an innovative carbon calculator for one of the UK's largest timber suppliers. More recently he has been researching the environmental effects of disposable and reusable facemasks.
During his university studies, George gained a particular interest in human geography which prompted his subject choice for his dissertation and researched the social impacts of tourism on a small coastal town. This research has given George a valuable insight into the social aspects of LCA. A novel methodology, George has used social LCA in an ongoing paper along with environmental LCA, to assess the environmental and social effects of modified wood.
Contact: g.e.roberts@bangor.ac.uk
---