To celebrate International Women's Day 2023, KESS 2 will be highlighting some of the fantastic female participants who featured in our news recently. It goes without saying that this is not an exhaustive list, there are many more amazing women doing incredible work funded by the ESF and KESS 2! This year our spotlight falls on:
Jenny Woods

Jenny is investigating bio-based polymers in application to paper-based packaging. Working with Wipak (UK) Ltd. she aims to develop a bio-based coating that can be applied to a paper substrate to be used as a potential packaging material in the industry.
Read more: https://kess2.ac.uk/case-studies/bio-based-coating-applications-onto-paper-based-packaging/ 
Trys Burke
Trys from Bangor University's School of Health Sciences is researching enhancing community health and well-being through peer supported outdoor adventurous activities, working in collaboration with Snowdonia Watersports. Trys talks more about this in our recent #SDG3 workshop.
Read more: https://kess2.ac.uk/wellbeing-benefits-of-outdoor-activities/ and  https://youtu.be/IoFK30TY49w  and https://kess2.ac.uk/covid-chronicles-continues-with-kess-2-face-covering-selfies/
Emma Jones
Emma's research, in partnership with  Kidney Wales and Betsi Cadwaladr University Health Board, aims to understand why some patients with kidney disease refuse or opt-out of a kidney transplant.
Read more: https://kess2.ac.uk/world-kidney-day-2022/ 
Dr Liz Morris-Webb
Liz is a Post-Doctoral Research Assistant whose PhD study and subsequent research focuses on ocean literacy. Liz's cross-disciplinary work between Ocean Sciences and Social Sciences looks at people's relationship with the sea and how it applies in a management context. Liz talks more about this in our recent #SDG14 workshop.
Read more: https://kess2.ac.uk/what-does-gathering-from-the-seashore-mean-to-the-modern-hunter-gatherer/ and  https://youtu.be/PRjaHXoUiCM 
Dr Kathryn Whittey
Kath's PhD research looked at coral habitats and reef restoration through the deployment of artificially constructed "fish hives". Her study also included looking potential biological solutions for balanced fish health in aquaculture environments.
Read more: https://kess2.ac.uk/fish-hives/
Hannah Gandley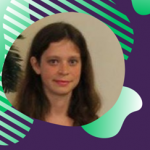 Hannah's research looks at zonal appraisal and front-end engineering design for offshore renewable energy projects in collaboration with energy company RWE. Recently  Hannah applied the UN Sustainable Development Goal 14, Life Below Water to her KESS 2 research.