Holly Jones, a KESS 2 PhD researcher at Cardiff Metropolitan University, has published her first paper
in The Scandinavian Journal of Medicine & Science in Sports (impact factor 4.221) following the initial part of her research project. Holly's collaborative project with company partner Dragons Rugby Wales focuses on examining lower limb movement strategies using wearable technology.
The first part of her research looks to identify movement patterns in specific activities after anterior cruciate ligament reconstruction (ACLR) to help inform clinicians of an athlete's readiness to return to sport following surgery and rehabilitation.
The study aims were to:
investigate the effect of task on movement strategy by examining differences in joint work distribution when the same vertical drop jump task was performed bilaterally and unilaterally, and when two different unilateral tasks (the unilateral drop jump and a 90° pre-planned cut) were performed
examine the effect of group on movement strategy by examining differences in joint work distribution between ACLR and non-injured individuals
examine the level of correspondence in movement strategies employed by ACLR and non-injured participants when performing a bilateral and unilateral drop jump, and two different unilateral tasks (unilateral drop jump and 90° pre-planned cut).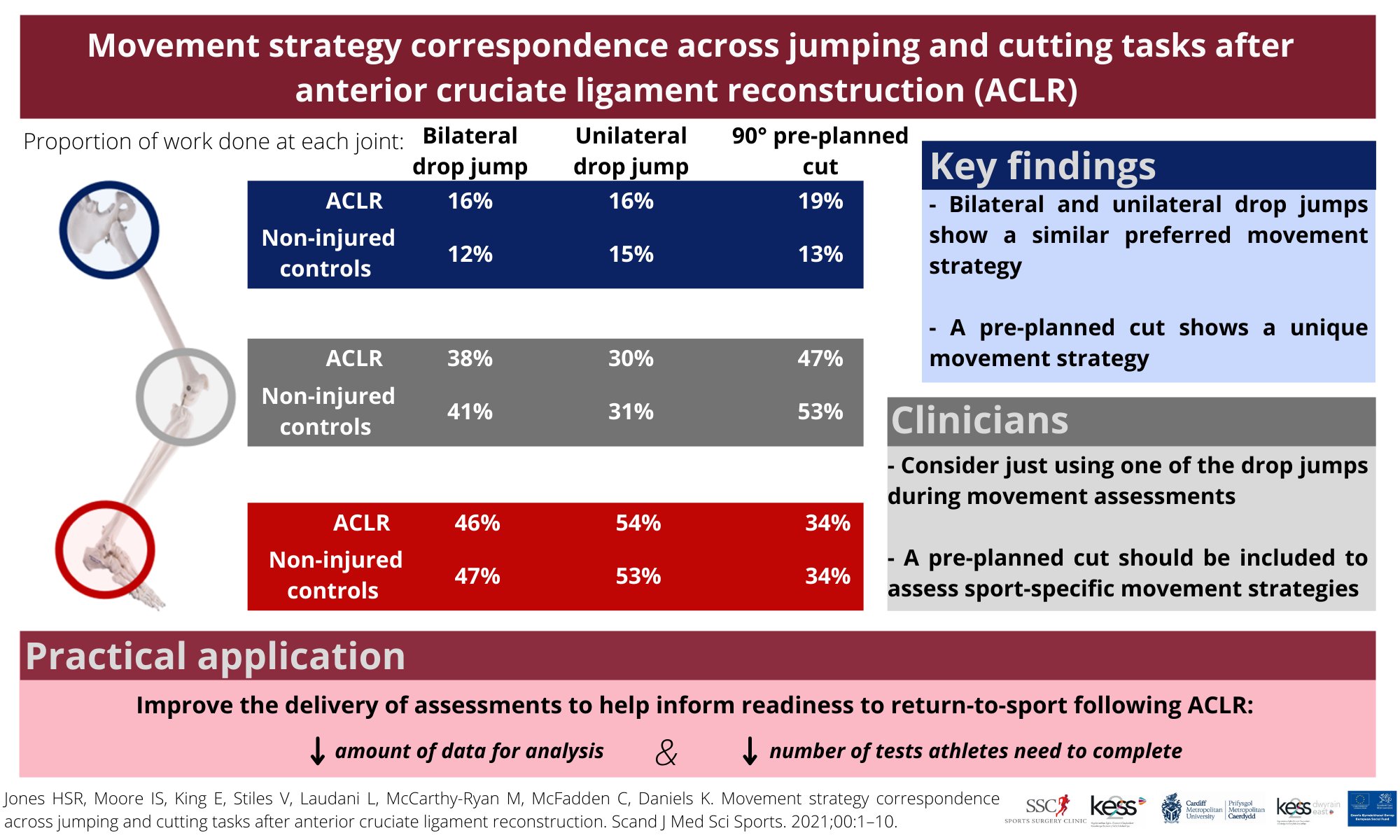 Academic supervisor Dr Izzy Moore says,
"Understanding human movement following injury rehabilitation is essential for clinicians and coaches working with athletes to decide whether they are ready to return to sport. Holly's first PhD paper provides important insights into how athletes perform certain movements and how this transfers across to other movements. Not only is there a great clinical application to her research, but the work is also of a high quality and published in one of the top sports medicine and science journals. This is a fantastic achievement."
The findings from this work will not only improve the delivery of the assessments that help an athlete return to sport following ACLR but will also facilitate a reduction in the amount of data clinicians need to analyse, as well as decrease the number of different tests athletes need to complete during their rehabilitation.
Holly says,
"KESS 2 made this paper possible by allowing me to spend two weeks at the Sports Surgery Clinic (SSC), Dublin. The data in this study was collected by the Sports Surgery Clinic and they were kind enough to allow me access to use it. KESS 2 has improved my confidence and skills and allowed me to gain an insight into both a high-performance sport environment (with my industry partner), as well as a clinical perspective from my time spent at the SSC."
The publication can be read at: https://doi.org/10.1111/sms.14104
Holly can be contacted about her research by email at: st20057426@outlook.cardiffmet.ac.uk